Chapter 6
Thinking about getting an Airtag to keep track of your dog or cat? You're in the right place. We're here to help pet owners make the best choice by understanding more about this Apple product. A complete overview of how an Airtag works to track a pet.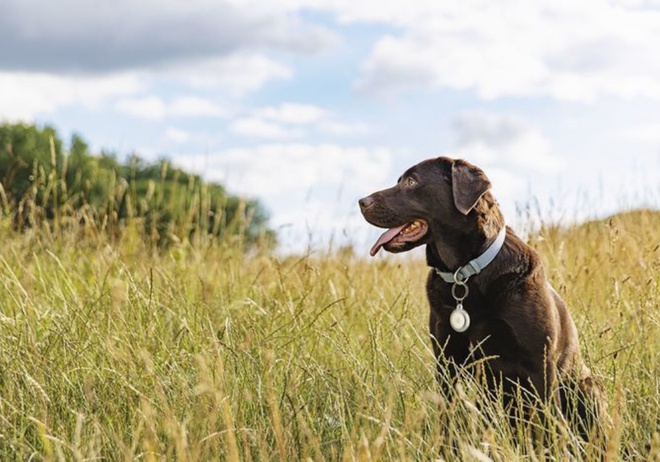 The Airtag is an extremely popular product. The world famous Apple brand has turned this little device into a must-have gadget for finding your everyday essentials. Many retailers now sell collars for dogs and cats that are designed to hold an Airtag. This would lead you to assume that the Airtag and its "Find My" function would allow you to track and locate your dog or cat successfully.
Although the Apple Airtag is perfect for finding your everyday essentials, which is what the brand designed it to do, finding a living creature using this GPS tracker with no subscription is much more complicated than you might think. We explain why.
SUMMARY
How does an Airtag work for pets?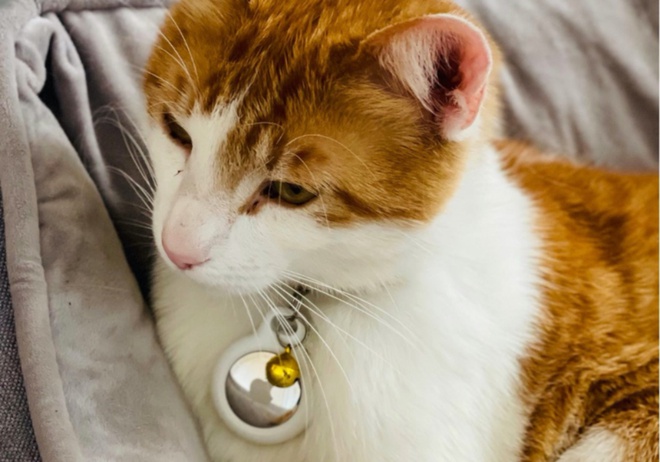 Bluetooth technology
Airtags work by emitting a Bluetooth signal. This Bluetooth signal can be picked up by other devices in the iPhone network. Bluetooth can transmit and be detected up to a maximum distance of 50 metres in theory.
However, this maximum distance only applies in an open environment. In other words, an unobstructed, ideal environment. The Airtag and other key finders are extremely accurate when used to find items that are close by.
Bear in mind though that Airtags are only compatible with the iPhone network. You would not be able to configure one to work with an Android smartphone. The Bluetooth signal sent by the Airtag can therefore only be picked up and relayed by other iPhones.
Crowd GPS and the Apple iPhone network
Crowd GPS
The downside of the Bluetooth technology that powers the Airtag is the limited distance of the signal, which is only 50 metres. So the key-finder manufacturers came up with the concept of "Crowd GPS". This system allows the tracker (in this case the Airtag) to use anyone who has the same Bluetooth receiver to update the tracker's position when they pass it. This extends the signal beyond 50 metres.
The Apple "Find My" network
The Airtag is based on the same concept. It relies on Bluetooth receivers in the Find My network, i.e. other Apple devices, to extend the signal. Apple decided to leverage the network of iPhones around the world to run its Airtag, as it does for many of its products. This is an incredibly powerful and extensive network (there were 900 million active iPhones worldwide in 2019, according to Apple's CEO).
Consequently, an Airtag will only work if there are other Apple devices nearby. The Apple community is key to making sure the Airtag works properly. Don't forget, Apple products are not compatible with Android devices.
Advantages and disadvantages of an Airtag for dogs and cats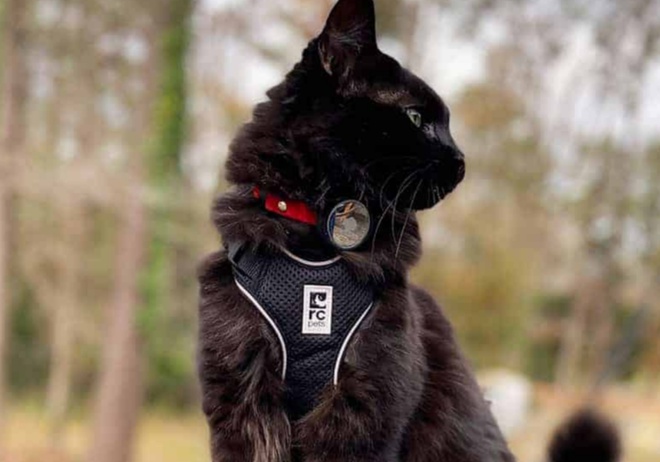 There are lots of other brands with products like the Apple Airtag.
One example is Tile mate, which only costs around £20. All of these key finders use the same Bluetooth technology as an Airtag. Here are their advantages and disadvantages for GPS tracking a dog or cat.
Advantages of an Airtag for dogs and cats
The Airtag has some interesting advantages. These include:
- Ease of use: Airtags are super easy to use right out of the box. The interface is both simple and fun.
- Apple guarantees anonymity and privacy with its Airtag. Only you, as the owner of the device, can locate your Airtag.
- Lost Mode: If you lose your Airtag, you can enable Lost Mode on your iPhone. You'll automatically be sent an alert when another device in the Find My network detects your device. You can even set up your Airtag beforehand, so that whoever passes your lost Airtag will get a notification on their mobile phone with your contact details, so they can get in touch with you to return it.
- A long battery life: Like other GPS trackers that work with Bluetooth, the Airtag has a very long battery life. You can expect your Bluetooth tracker to last about a year before it needs recharging.
- Waterproof design: In view of their original purpose, all key finders are waterproof. Whether attached to your keys or just slipped into your handbag, it's quite likely that your Airtag will at some point end up in a puddle. So don't panic.
- Customisable: You can customise your Airtag with your initials or a word engraved on it when you buy it. The brand offers this premium service free of charge.
All this sounds very appealing and makes it a tempting option for finding your lost pet. Don't be fooled though, there are some major drawbacks to this device when it comes to locating a beloved pet.
Disadvantages of an Airtag for dogs and cats
GPS positioning with a limited range of 50 metres
First of all, the Airtag doesn't have a GPS module. This reduces battery consumption, resulting in a very long battery life. On the other hand, it makes it useless for tracking a dog or cat.
Like any other key finder, the Airtag works via Bluetooth. However, this technology only works up to about fifty metres. Airtags are only suitable for close-range positioning and are designed for finding everyday essentials, as Apple itself acknowledges.
To find your pet any further away, you would have to rely on third-party devices. This is another key flaw in this technology.
No real time GPS tracking
As mentioned earlier in this article, the tracking system relies primarily on the size of the community around the tracker. More specifically, in the case of the Airtag, longer range tracking relies on the community of iPhones in the vicinity of the tracker.
So if you attach an Airtag to your dog or cat's collar, you'll have to wait for someone with Bluetooth enabled on an Apple device to pass within 50 metres of your pet before their location updates. This can be extremely frustrating, especially if you live in a rural or sparsely populated area. Even in big cities where there is a much larger iPhone network, there will still be a time lag.
Without a GPS module, an Airtag does not have the ability to determine its own position and therefore does not work independently. This is a massive drawback if you lose your pet. A lost dog or cat will keep moving and is bound to be scared. Time is of the essence.
A genuine health danger
The major drawback of using an AirTag to track one's pet is the risk to their health. Indeed, due to the device's size, your dog or cat could easily swallow an AirTag. As highlighted by the Wall Street Journal in a recent article, several dog owners were dismayed to find out that their companion had ingested their tracker. A vet from Louisiana even stated that in just 8 months, he had removed 6 AirTags that dogs had swallowed.
Expensive accessories
What's more, Airtags are sold without accessories. To attach it to your keys, bag or pet's collar, you'll need to buy a fairly expensive accessory (a cover or holder) when you buy it. Apple has anticipated this by teaming up with a range of brands to bring you accessories in a variety of colours and materials including leather and imitation leather, to suit all styles and tastes.
Is an Airtag really suitable for a pet?
An Airtag is a handy device for finding your everyday essentials. Other brands like Tile and Nutale also offer this type of GPS tracker. These trackers are usually called key finders and are more clever gadgets than safety devices. This kind of GPS tracker is not a good choice though when it comes to your four-legged friend. Finding a lost dog or cat with an Airtag involves far too many variables coming together to be a reliable solution.
Animals are constantly on the move especially if they are lost and frightened. As their owner, you're going to be panicking and time will be of the essence. This is why we recommend choosing a GPS tracker designed especially for pets that allows real-time tracking of your faithful friend over an unlimited distance. Both of these features are key to finding a loved one or in fact any living creature, and an Airtag has neither of these benefits.
An Airtag is in no way a GPS tracker dog collar or a GPS tracker cat collar. It is not a positioning system suitable for your pet. It is not a tracking device, but rather a key finder designed to find everyday items.
18 questions you need to ask yourself before buying a GPS tracker for your loved ones!
Why choose a GPS tracker for your pet?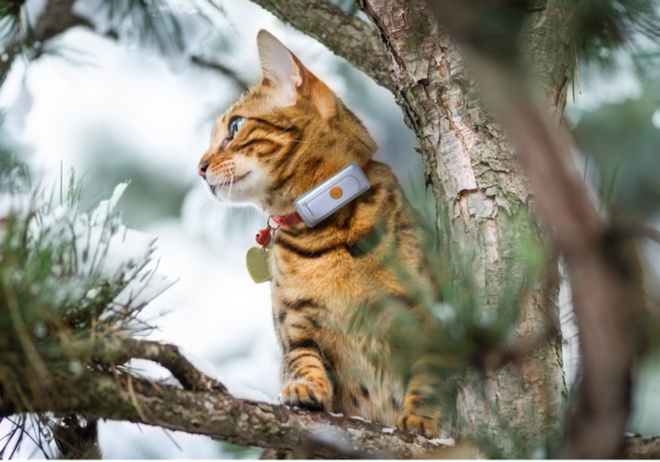 A GPS tracker collar is the perfect alternative to an Airtag for your dog or cat. It is both safe and reliable, as well as offering some interesting extra features.
An unlimited operating distance
GPS tracker collars for cats and dogs offer tracking over an unlimited distance thanks to an integrated GPS module. This means that as long as there is a mobile phone network, your tracker can transmit its position from anywhere in the world, unlike a Bluetooth GPS tracker or an Airtag. It's an autonomous tracker that works independently.
This is an extremely important feature if your dog or cat gets lost. An animal is a living being, which not only moves, but which can move very fast and very far. Being able to locate your pet over an unlimited distance is essential if you want to keep your furry friend safe.
Manufacturers of GPS trackers for dogs and cats often provide multi-network and consequently multi-country coverage. This means you'll always be able to find your precious pooch or mischievous moggy even if you live near a border. It also minimises the impact of any dead zones.
Real-time tracking
Real-time tracking is just as important as an unlimited distance when it comes to GPS positioning. Being able to track a lost dog or cat in real time is crucial to finding it as quickly as possible. If their position isn't regularly updated it will be incredibly difficult to find your lost pet, as they will be constantly moving.
Only a GPS tracker collar for dogs and cats with a SIM card will provide you with this feature. An Airtag will never be able to provide real-time GPS tracking, as its positioning is reliant on the community of iPhones around it. The thought of waiting for someone to pass your furry friend before you get their position is inconceivable. Their safety has to come first.
Manufacturers of GPS trackers for dogs and cats often offer useful extra features. A GPS tracker dog collar and GPS tracker cat collar may have an escape alert, for example, or a built-in ringtone that is a handy tool when training your dog or cat. A ringtone will help your pet with recall training, in other words making them come to you when they hear the ringtone or feel the vibration. Ideal for when your pooch runs off and is too far to hear you call.
GPS tracker collars for dogs and cats also work with a smartphone app that gives you quick and easy access to GPS tracking for all your dogs and cats.
So what are the best ways to use an Airtag?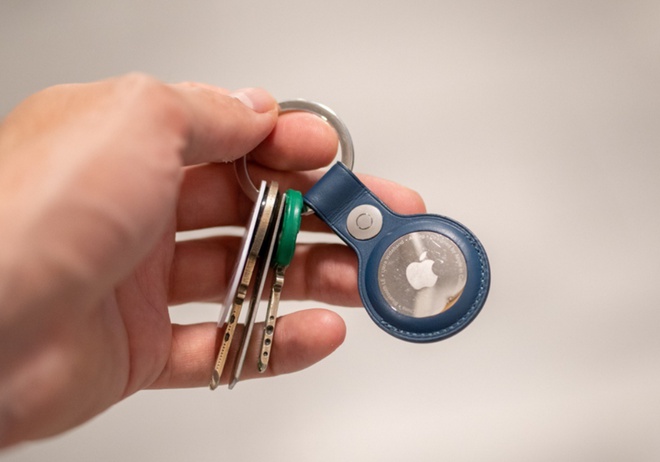 Finding everyday essentials
An Airtag is perfect for finding everyday items. It's small, handy, and practical. You can take it with you anywhere. Its biggest advantage is that it is extremely accurate at short range. This means that even if you need to find your keys down the back of the sofa, an Airtag will save the day.
Apple has made the Airtag even easier to use by introducing a "hot and cold" system. It's the same principle as the game we all played when we were kids. Your iPhone will show you the number of metres and the direction you need to go with an arrow pointing to the Airtag. If you lose your Airtag, you can find it using the "Find My" app on your iPhone.
This very accurate positioning (but at a very close range) goes to show that this device is perfect for finding small everyday items you might misplace at home or in the office. Keys, wallet, phone, handbag, you name it. Other brands also offer this type of product and sometimes at more competitive prices than the Airtag (Tile Mate, Nutale, Wistiki, etc.).
Don't be tempted to buy a Bluetooth tracker to track your pet
Its limited range tracking makes it clear that the Airtag is not suitable for finding a lost or escaped dog or cat. Although the Airtag's signal can be relayed by other iPhones, this isn't particularly reliable, as you have to wait for someone with an Apple device to pass by. This is a big risk to take if your pet has escaped or got lost.
A Bluetooth tracker or Airtag is more of a gadget than a pet safety device. Its main use is to locate everyday items. Hence it's called a "key finder". It can also be used to locate a stolen car or to find a bike, although other no subscription GPS trackers are better suited to these tasks.
If you're looking to buy a GPS tracker for pets, you'll want to buy a GPS tracker that is designed with this purpose in mind and that has the right features. How you're planning to use your GPS tracker will affect the type of product you choose.
Conclusion
An Apple Airtag can be extremely effective for finding a wide range of things. On the other hand, you should be wary of websites or pet accessory manufacturers suggesting other non-recommended uses. Tracking a missing pet is nothing like finding your car keys in your flat, or your purse in the living room. So don't be fooled by dog and cat accessories designed to fit an Airtag inside.
Lost dogs and cats are always on the move. It's crucial that you are able to track them over an unlimited distance AND in real time. These two key features are fundamental to finding a lost pet. The technology behind the Airtag and other key finders is not at all suitable for this kind of use.
This article is part of a complete guide on the subject. Do not miss the next chapters.