GPS for kids with long-lasting battery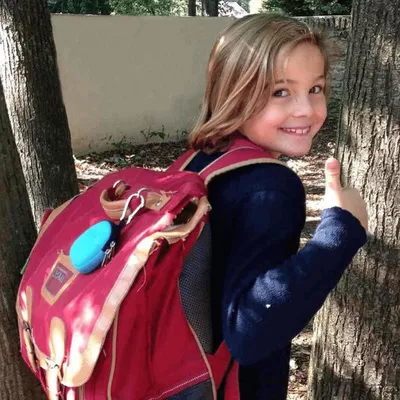 With Weenect Kids you can follow your child's movements in real time, and no distance limit. Your child may be miles away from you, but you can always locate them. The included SIM card is multi-network which allows coverage of 99% of the country. Note: the product will not be able to function if there is no cellular service available in your area.
The included protective pouch allows you to attach the GPS for kids to their belt, or to store it more discreetly in their bag. Add as many children as you want to your account, you can track them all from the same application. Note that there is no limit to the number of users on the same account, so all the child's loved ones can keep an eye on them.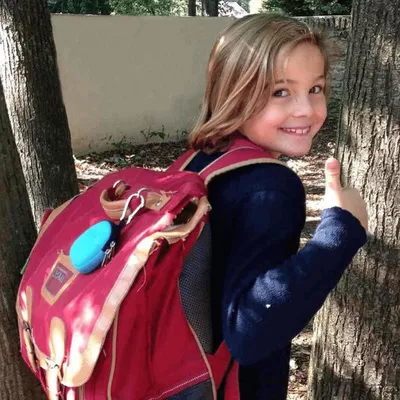 Live tracking
Support your child as they become independent; you can watch over them remotely with real-time tracking (up to 1 position every 10 seconds).
Emergency telephone
Receive an alert as soon as your child presses the SOS button on their tracker. You can call them to provide reassurance and then reach them using their GPS position.
Safe zones
Protect your child's journeys by creating as many zones as you wish (home and school for example), and if your child enters or leaves you receive a notification by phone.
Safeguard your child in just 3 steps
Technical description
Compatibility
Apple iOS 10.3 or higher
Android 4.1 or higher
Web app on all browsers
Battery
1700mA/H ; Up to 7 days battery life
Size and weight
65x40x18mm ; 55g
Connectivity
SIM card included in the product
GPRS 900/1800 MHz
See the list of countries covered
Contents of the box
1 Weenect Kids GPS for kids, 1 waterproof protective pouch, 1 USB cable and 1 quick start guide.
What our customers say about Weenect Kids
I am very happy with this purchase. Every morning I have my mind at rest that my daughter has arrived at school and I receive a notification when she has left school in the afternoon & can track the school bus journey. I can also keep track of her when she's out with relatives/friends.
Onfeilbaar trackingsysteem
Traceur facile à transporter, robuste, fiable. Application fonctionnelle et intuitive.
I bought this tracker for my kid, and after testing it for a few weeks works very well. Very happy with it. I recommend it.
My wife had the fear of her life when ou 10yr old did not come home from school at the planned hour. Turned out the schedule was off by one hour. Hence we got Weenect and had another instance since then where it helped us. It worked very well , is very well thought out, and should be default choice if you don t want smartphones to spoil your kids. If i could give minor improvement advice: better battery life or power load optimisation, dimmer leds.
Unverzichtbarer Begleiter in der Großstadt
We bought this for our boat so we knew where our boat was at anchor if we left it. It has worked brilliantly and we have been extremely pleased. We can leave the. OST and go out of sight and know she has not moved. The staff are very helpful both in the phone and by email and I have been extremely impressed. Well done and I hope you do well.
I used it two years and fully satisfied. But only the 'emergency call' is not working properly, so I wrote an email but there was no answer for long.. Except this problem, I would recommend..
Peace of mind
It is a very useful and safe option to track your child whereabouts.
Can take a few attempts to get the tracker to reconnect after the battery is fully drained but once online it's reliable and easy to use. Would recommend
Weenect has made a huge difference in helping us keep track of our 11 year old autistic son. In general reliable though from time to time we do lose signal for a day. But weenect customer service tends to respond promptly to this and can reset remotely. Highly recommended!
Its a great tracker, has given us great peace of mind. We can see where our special needs son is all the time.
A good little device. My daughter gets coach to school and I get a reassuring alert once she arrives. There is a bit of a delay in the tracker and the sos has never worked although thankfully this is not something that my daughter has needed to use. A handy little gadget as my daughter is 9 and I am putting off the use of mobile phones for as long as possible!
The product is very reliable and functions like promissed. I use the product for 2 years and pritty happy with it. To my opinion the next generation could be smaller. It is kind of hard to put it into a kid's jacket and not to see the tracker from far away.
Great Tracker, makes us and the child feel safe. We can only recommend it for the first school years.
This device is amazing! Tracking is very accurate. Big helper to see when your kid is on its way to and from school, makes the pickup much simpler!
This is a great way to give my kids freedom whilst still being aware of where they are and letting them contact me on an emergency.
Excellent.
Brilliant-does what it says on the Box. We think it is great and has proved itself already on a number of occasions.
Really useful and reliable. Only criticism is that it is fairly easy for the children to incidentally activate the red button if it is in their pocket.
Super happy with it. Very good and I don't have to go out and wait long for my kid to arrive after school
I've been using it for long now and although I never tried the emergency button (luckily) all other functionalities are super useful and easy to use. Well done
I use this tracker since years now . Very happy ! Just want to encourage them to build also a kids watch / phone / tracker As I can't find one with an accuracy as this one ! Thanks for years of helping to take care of our daughters!👍🏼👍🏼
Great product with best value. We have been using it for 3 years and happy with the device, application and support. It covers all countries.
Very accurate tracker as the device has a GPS track hardware itself. Many pocket & pouch devices do not have this and their tracking is by Mobile Telephony Radio masts only instead e.g. Android phones, which is fat less accurate.. The Weenect also used radio mast triangulation as back up. Safe Secure. Would highly recommend for looking aftet your little ones e.g. when they take their school bus & coach runs parents can track their children's progress in real time, home, while the children have the freedom to stop at the shop, get snacks etc. With Weenect, parents, can draw (uses circles) for which rheir children are believed to play in, in freedom, or use to path school bus / coaches. Very happy!
Does exactly the job it's designed for, if your kids are too young for using a smartphone. Localisation is reliable and very precise when outdoor. Kids can call in case of emergency, you can ping the kids, it works everywhere (at least in Europe). I'm happy with it and recommend it (I've got 2).
Great tool for adding peace of mind. Questions needed to be spell checked before uploading, check where a single and not a double "t" should have been used!
I purchased this tacker for my daughter who has autism and will often just walk off. It tracks really well and gives easy instructions on how to use. A great buy.
Amazing tool for my daughter as she started to go to school by herself. Gives her the confidence to. Build her independence and us the peace of mind :)
Good value of money. Very reliable product, good support.
Work well, the battery last long e.g. more than a week depending on usage. Accurate and reliable so I would recommend it.
Great tracker. Works fine, but can update slow sometimes. Support is great. I will be getting an other one for my other child when she starts school. Needs to be able to send more SMS
Very reliable especially when smartphones may not be allowed in some schools.
Works fine except sometimes the messages and locations are not precise.
We are using the tracker for almost two years (edit: three years! Battery still holds!) already, and it is super useful. Monthly fee is super low, which includes unlimited tracking unlimited internet messages plus 15 min voice calls per month (more than enough). Messages are predefined, and kid sends them with a single key. Overall, it's perfect for kid that's too young to have smartphone, or to send or receive random calls.
Concept is great. When it works, it is just what I need for safety if my child. The problem is some bugs or dysfunctional on charging and sometimes satélite connection.
Excellent product. Lasting battery, very accurate location, quick updates. Certainly recommended.
There have been useful updates over the 2 years I have used it. It has become better now. The battery lasts over a week now and has improved over the 4 days it used to last when I bought mine 2 years ago. I have recommended it to friends who also use it.
Amazing idea I have a disabled child that I bought my weenect for as she left the safety of the family home one morning when all was still fast asleep causing major panic thanks to the weenect we where able to track her every movement find her and return her safe back to the safety of the family home I highly recommend this device to any parent that has a vulnerable or elderly person as it gives a massive peice of mind regarding the safety of the person wearing it
Superb. Easily to use. Just charge once a week.
Good tracker. Reliable and easy to use. Some improvements made both on the device and on the web-app. It is better than 2 years ago (especially the battery-life!!!) Thanks for the good work and please keep it up.
Great item, but it would make start of it was more frequent live time log of movement-location change.
Good size, not too big. Battery life is good. Improvements in the app have made it easier to locate my non verbal ASD son. I think it would also suit young kids who aren't old enough for a mobile yet but as a parent you want piece of mind knowing where they are. A reasonable monthly charge and haven't found a completely dead signal spot in our area yet as it will pick the strongest signal from any network. Overall happy and would recommend.
Superb ! We can go outside without to panic or be scared every time. My daughter is still very young, 4 years old but she already get it ! Thank you !
Bought 2, was worried as had seen mixed reviews, but there was no need, really easy our of the box and lots of configurable buttons. GPS is accurate and the abilty to chance the "check in" times on the fly is great. Only little thing for me is that the SOS button only allows 10 mins in total and then blocks the SIM card. Although 10 mins (per month) should be ample, I worry that maybe the day you really need it you o my have 10 mins... Geofence zones are great and the push and emails work fine with no extra costs. I would love to see some web hooks so that I can integrate it with a smart home to announce arrival in and out of zones. All in all though a great product and a good prices. I recommend it without hesitation (I am based I Switzerland).
We bought this for our daughter who like to wander off. It has worked in all the parts of the world we have been. Great for peace of mind.
I have been using it for a week (daily). I find it perfect.
That's the best tracker. Super helpful. So happy to have it.
Solved all my worries. Has everything that all mums need! Glad I came across it.
My child for security and attention reasons is not allowed phones to school and started travelling to school by herself. This is the perfect companion. When I know she is travelling I can see her whereabouts and the historical view helps Too. She also learnt how to send messages by pressing buttons and is a silent way to communicate between us. Great product and v recommendable.
Great little product to keep your mind at rest about your young ones whereabouts. Connections a little slow at times but still better than handing a mobile phone to young children.
Great tool and ever improving interface. I noticed improved tracking and battery life in the new update. I'm happy with the service so far.
It's perfect!
Very accurate - simple to use - kids love it and find it rather cool to show their friends how they can call their parents. We use it a lot when outdoors for skiing but also when we visit big events. Recommend 100%.
Good product.. But battery life is low
Accessories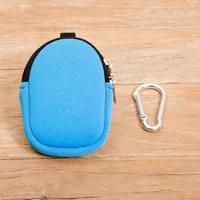 Protective pouch x2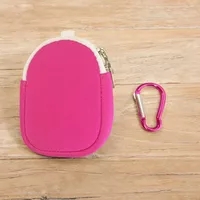 Protective pouch x2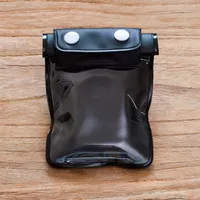 Waterproof pouch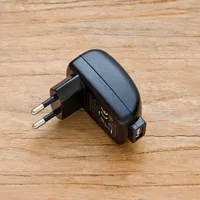 Power connector (C)