The world's smallest GPS for cats
With Weenect Cats 2 you can follow your cat's movements in real-time, and without distance limit. Your pet may be miles away from you, but you will always find them. The included SIM card is multi-network, which allows it to operate even in the countryside. Note: the product will not be able to function if there is no cellular service available in your area.
The silicone case provided allows you to fix the GPS for cats on any size of collar or harness. So you can choose the option that best suits your pet. Note that while the small weight of the product is not a problem for a cat (whatever its size), it is, however, preferable that it is used to wearing the collar or the harness before fitting the tracker to it.
Live tracking
You will never lose your cat and can easily find them with real-time tracking (up to one position every 10 seconds).
Training
Territory analysis
Find out where your pet spends most time and the boundaries of its territory. The secret life of your cat will soon be revealed to you.
Safeguard your cat in just 3 steps
Technical description
Compatibility
Apple iOS 10.3 or higher
Android 4.1 or higher
Web app on all browsers
Battery
550mA/H ; up to 3 days battery life
Size and weight
58x23x10mm ; 25g
Connectivity
SIM card included in the product
GPRS 900/1800 MHz
See the list of countries covered
Contents of the box
1 Weenect Cats 2 GPS for cats, 1 silicone case, 1 USB cable, 1 charging base and 1 quick start guide.
What our customers say about Weenect Cats 2
Bonne application. Permet d estimer la position de son animal.
In general happy with the product. The are frequent times when it fails to update the cat's location at the specified interval and does not indicate that there is gps or gsm issue. but by pressing the live update mode then these are usually resolved. documentation concerning the sos button is totally missing (somebody pressing the button turns the device into a phone which then calls you and you can have a conversation with the caller while the device is still around the cat's neck). battery goes down about 25% per day, which ,given the number of days in a row that the cat has gone missing, means we feel it necessary to charge it daily, but it is typically recharged in 15 minutes.
Indispensable
Super produit fiable qui eneleve un gros soucis Application simple et efficace
Works great. Batterylife is good, loads quickly. Good app, easy to use.
Love it! Super helpful and practical!
Excellent value for money and provides peace of mind if you need to know your pet is safe. The GPS can sometimes be a problem in bad weather but most of the time is accurate. Stays charged for a good length of time too.
I bought this after my cat went missing. We luckily found him stuck in someone's garage the next day but I was really worried about it happening again. I researched a lot of trackers but it seemed to confusing to choose the right one! I went with Weconnect in the end as they had so many good reviews. So far the tracker has been really good, it's given me huge peace of mind - especially as I now know he doesn't actually go further than a few gardens down! The tracker itself doesn't bother our cat at all even though it looks a bit big on him. It's pretty accurate, though the signal does drop out sometimes - but we still get a good idea of where he is. I love the ring feature so you can hear where he is - I've used this a couple of times when I've been a bit worried he's not where the tracker said he was, and it turned out he was just hiding well in the bushes! Overall I would say it's a really good option if you're looking for something to make you feel a bit safer in letting your cat out - I would recommend it to anyone actually if it keeps their kitty a little safer :)
This an excellent tracker, accurate, easy to use and my cat doesn't mind it at all. Recommended.
Super produit fonctionne a la perfection Sacré surprise de voir son chat partir a plus de 5 km de la maison
I was looking for peace of mind with one of my cats who likes to go out all day. As she is small i really needed something that wasn't bulky. When the tracker arrived i was initially concerned that it would still be too big for her, but she has really accepted it. I like being able to set the frequency of gps reports, though it struggles in a built up area at times and there can be a real time lag at times (she has arrived home 10minutes before the tracker has reported a signal). Generally a great investment for peace of mind.
Works fine.. good buy.. had some trouble with the device buy the immediately sent me a new one...
This is an amazing piece of technology. My cat is just 3 Kilos but she wears it without any problem. I cannot believe the distance she travels and where she goes. It is so much easier finding her when I want her to come in. Thank you Weenect. I can highly recommend this product to everyone.
Woks well and easily, battery is long lasting and the gps is quite accurate. Found it better than all other products I tested in the market.
Impeccable super comme tracker
Very happy with this tracker which allows us to know where our kitties are and has brought a great deal of peace of mind
Application fiable, service et assistance efficace.
We got this for our young ragdoll who is very adventurous and sociable and likes to go visiting other houses in our neighbourhood but started staying out for longer and longer periods. The tracker means we always know where she is and also discourages other people from keeping her shut in their homes. The signal is fine where we are and battery lasts about 24hrs. Absolutely no complaints.
I took Weenect to give me some piece of mind on my holidays (van tour). People ask me if it's too big, but it's fine my cat didn't mind and wore it during the whole stay. The battery is ok, you just need to charge it like every 48hrs. You get a notification when it's a little low. The tracking is pretty accurate especially with the special feature that updates really frequently (every 10seconds I seem to remember). I have got a second cat and thinking of getting one for him too.
I love having the peace of mind when the cats are outside. Knowing that they are in the vicinity and that they can be found if they get lost is amazing. I am looking forward to a smaller version... worth every cent of what it might cost! I strongly advise buying this life-saver!
Although it looks big, my small Bengal accepts this fine. It came fully charged and very easy to set up! It was all done in under 5 minutes. I have trained my cat in a week to come back to the ring signal. So overall I'm extremely pleased!
Accurate, good ui, easy to use (except turning on and off part).
This is a good product with a good app. Major downside is the battery only last about 12 hrs. We live in a rural location so the signal drops in and out. We use a second RF tracker as a back up and together we have the perfect solution. Our cat is diabetic and has injections twice a day so we have to have the reliability element. If Your cat doesn't go out for long periods and you have good cellular coverage this device would be perfect.
I bought two cat trackers to help with getting my cats outside. They have been invaluable. They are so reassuring when you want to check if they are in a safe place. I used the tracker when one of my cats got lost and we were able to locate her and bring her home. I have owned cats for over 40 years and these trackers have revolutionised cat ownership for me. Well done Weenect.
Simple efficace et un sav top
OK Except the instructions manual not clear. Any time I charge the device I am not sure it is not disconnected from internet.nos sur how I can switch off the device during the nightwhen cat is indoor
I would highly recommend this tracker to anyone
It's very reassuring to know where he is. He disappeared for over a week 2 years ago. So we got the tracker. So even if he doesn't come in , we have an idea where to look.
I find it as a very useful tracker. I even used it in my car rented to someone else, and i still need to test it inside my bycicle. However, it stay at the neck of my cat most of the time.
I have a Bengal cat and this has been truly helpful in knowing not only where she is at any given time, but to keep track of her usual hangouts too. Size and weight are just right for a medium to large cat. I gave 4 stars not 5 because battery life could be longer, and because GPS is not always reliable and I hate it when it goes offline giving me her location 2 hours ago. Overall would recommend.
Superb product. Simple to use, easy to find when the cat's collar comes off, stays charged for days - basically a great idea extremely well implemented.
Super efficace , je me sens beaucoup plus rassurée
Very good product. Wouldn't be without it. Customer service is good but can take a few days for a reply.
Un seul reproche, le support pour attacher à un collier est un peu fragile
Super pour mes chats !!! mais attention à l'abonnement Sans engagement avec engagement de 3 mois Bon service client
Weenect cats2 is a great product overall. The gps may not always show the correct location but it's not far off
Very useful device, well accepted by the cat. The ability to ring the device and/or to talk to your.animal is also appreciated. The only drawback, the life of the battery,which needs to be recharged too often. If your animal disappears, you only have 36h of communications and then it's off. That's too short.
Product gives me peace of mind and is very accurate
Of the 3 cat trackers we've used, this is the best! Weenect 2 has everything you need. The only minus is 1) the battery isn't detachable so you need to remove the whole unit to recharge, this leaving the cat without a tracker for a couple of hours whilst it charges. It would be great if they had detachable batteries which came 2 per tracker, allowing 24/7, 365 days a year tracking. Other than that, it's brilliant!
Bon produit, dommage que par moments on perds la connexion
Great, accurate, up to date tracking, very easy to use, would recommend :)
It works like a dream. It s easy to start and works great
Solid quality product. We only experience GSM coverage issues in our area. Worth checking upfront.
I haven't yet fully trialled the new tracker but I was already really impressed by cats1 and the accuracy of location. I loved the augmented reality but unfortunately cannot find this feature on the new one. This would be a big step back from the old one but I'm pretty sure the function exists somewhere. Could you make it more obvious for users? Otherwise a top device!
Application très bien
Perfect tracker. Great software. The size is a little bit big for a small cat
Great product which has given us peace of mind re where Dave ( our cat) is . Good and fast replies to any queries from the team
Excellent customer service. Great product.
Its excellent product, and really fun finding out where my cat Oreo has been.
Give a whole new view of your cat's outdoor life, and a very helpful tool knowing where your cat is at every given time. Battery life is an issue, but not as big AS I feared.
Works well, just wish the charge lasted longer
Fantastic product for my cat who likes to venture for miles. Accurate readings to within a few metres and fantastic features like the ring feature. Meqntctgat when my cat came home without his tracker on i could locate the area it was in and rang it so it made a noise helping to find it in some woodland next to a stream. Customer service of the weenect team is also fantastic as when tracker stopped workibg they sent me another no problem. Highly recommend this product.
As we have a wanderer amongst our group of cats, we were keen to know his whereabouts, and who was feeding him. This tracker has helped us to establish contact with the neighbour that he regularly visits. It has enabled us to rescue him when frequently locked in a garage, and we have used the ring facility to encourage him to return home to a treat. All in all, it has been very successful.
This tracker gives us piece of mind that we can locate our cat anytime although it's not an exact location but it gives a certain diameter of where he could be. You can set the diameter as small or as large as you wish to.
Safed my cats life a couple of times
I've used two of these for about 18 months. They're much better than the last tracker I used. The battery life is very good, a full charge probably lasts 24 hours or more. Solid, sturdy, not too heavy (my cats seem okay wearing them) and waterproof. It's a monthly subscription, which I think is necessary to pay for the SIM cards in the device. The plastic holder (attaches to the collar) wears out in time, which is fine, but I deducted a star because replacement holders are very overpriced. About £20 for two little plastic rubbery things. Maybe there's a reasonable explanation for the high price, but it's hard to imagine one. I'd like to see them sell replacement holders for a lower price and ideally reduce the size of the Weenect device as technology improves. Lighter and smaller is always going to be better for pets. Anyway, very good overall. The app is good too.
very good gps tracker, but cat need to be a larger cat
Other than the length of time the battery lasts, I would highly recommend weenect. Our cat is a real explorer & travels far & wide. We are able to call her home (not that she listens) & locate where she is or where she's locked in!! Unfortunately she sometimes is out for 48 hours and on some occasions the battery dies!
Great tracker!
Very reliable with accurate location. Provides peace of mind and has twice found our cat when she was trapped. Would recommend this product.
Very good product generally. Could be a bit smaller & lighter for comfort. Charging is my only complaint though ... only USB is a nuisance, why not a mains charger? Other than that, great peace-of-mind!
I really liked the app and ability to follow/find my cat. I am concerned about the weight and size of the device.
Fantastic product. Found my lost cat miles away from home using this device. It is accurate up to about half a meter, so was able to locate him very easily. Love the fact that it can communicate directly with the cat also!
Easy to use and charge, helping me to keep tabs on my wandering kitty!
Good little gadget but not 100% accurate
good product
On the whole this is a good product. It is not 100% accurate but it is usually close enough. My cat has lost her collar a few times (because it snaps open under pressure) and I have always been able to find the collar using the "ring" feature, which is really useful. Sometimes there are blips during the day, but most of the time it gives you a good idea where your cat is and has been. My cat is small and has no problems carrying the device about on her collar. In short, it's not perfect but it definitely increases your knowledge of what your cat is getting up to when he or she leaves your house.
95% of the time the tracker is very accurate - occasionally it will be about 200-300 metres out; this generally resolves after 10-30 minutes. It is very useful in tracking our cat and helps us find him every day. If it wasn't sometimes inaccurate I would have given it 5 stars - but overall very valuable to us indeed.
Excellent but would love it to be smaller and for battery life to be longer
Great product and always great customer service, thank you.
It's interesting and useful. We get to know our cats secret places where he goes and where he is. We watch his wanderings most of the day and sometimes go to find him if we think something is wrong. He jumps up on a table in the morning asking for the tracker to be fitted before he goes out. I think he knows we use it some how to help him if he is in trouble.
Excellent
Best cat tracker on the market.
We had a cat who wandered for a very long distance, he broke his leg, had to have it amputated and is now walking out on a harness. He escaped from it last week and we didn't have a tracker on him. It was worrying but I found him. The tracker is charging ready to go on to the harness. I don't want that worry again
While it can be a bit glitchy, the Weenect cat is worth it for the peace of mind! I love the ringing feature, as I can locate my cat by listening.
Great tracker so that I can feel safe when my cat is outside
The tracker has worked well for my cat. It stopped working at one point and was quickly replaced by Weenect. No issues apart from that. I am very pleased. It gives me peace of mind.
Really good product and service
Great product, easy to use
I think this tracker Works very well! We have had it for a couple of years. Weenect is very serviceminded and keen to help of any problems.
It is a good product but we have not been able to use it much due to a poor GSM phone signal locally here ...
Good product. The precision could be improved.
Very accurate. Good tracker. Only downside is if you need to contact them the answer is always in French.
Very helpful to know roughly where our cats were. Gave some peace of mind. Have now had cat containment fence erected so no longer use weenect
Its a reassuring way to find your cat
Peace of mind knowing where my cat is. We lost him for 10 days last year (hence the tracker) only suggestion would be to make it smaller and lighter! It is very accurate.
Product is great. Cat is happy with the tracker and it is very reliable on both iPad and iPhone. The history is also a great tool to see what the territory is.
this is a brilliant device for finding out what your cat gets up to. we discovered ours had a whole life of her own going on! also weenect were great about replacing it when she lost it.
I am really satisfied with this tracker. Our cat wondered off twice and that's why we decided to get her one. We use it every day , but unfortunately we have to charge it every day as the signal where we are is not very strong. The battery does last between 15 and 20 hours though even with the bad signal, so it's not a problem to charge as she gets locked in at night. We have found that the accuracy is quite good, it only doesn't work well when the cat is inside the house or garage. Also says not connected when she falls asleep somewhere outside and she hasn't been moving in a while :D The ring and call feature is fantastic as she lost it in the forest a couple of times. If it wasn't for the ring feature we wouldn't have found it as the area is quite overgrown. We have lost 2 trackers in the same forest already because they didn't have this feature. Also the customer service is really good, they reply really quickly and are really friendly. Overall, I am really happy with it as it brings quite a lot of peace of mind.
Great tracker (if a little big) and did exactly what I needed it to do - which was to find out where my little wanderer disappeared to...The furry scallywag did successfully lose it twice. On the first occasion, Weenect were able to ping me the exact location of the tracker and I could retrieve it....but he did too good a job the second time around and lost it in some bushes with bramble and stinging nettles! On that occasion, thanks to the insurance, Weenect sent a replacement quickly and without a fuss. Would definitely recommend - not just the tracker but the great customer service on offer.
The battery life could be better and it could do with being smaller in size. My cat has lost hers, three times, but I managed to find it on every occasion. Twice in exactly the same place! So, happy with it in general.
Excellent tracker, works equally well in the countryside and in town. No more worries where my Ninja is :) A great product and equally superb client service. Very happy with the purchase, highly recommended!
I think the battery is not holding a charge as well as it did at the start, but it's a good product and I always know where my cat is. He's fairly well trained to come when I ring him.
Using it every day. The sound helps finding the cats or collar if they loose it!
I am really happy with my Weenect For Cats tracker. It gives me peace of mind to be able to locate my pet in real time.
I was very happy with Weenect I was able to see where my cat was at anytime.
Excellent way of keeping track of where my cats disappear to during day. Get the odd little blip saying they've disappeared miles away out of geofence but usually corrects straight away.
Works really well. Given us peace of mind that we always know where our cars are when they're out and about. Wish the battery life was a bit better but given the small size you can't expect it to last more than a couple days.
It's a very good product and we receive good service from the supplier. When we thought there was a problem we were advise by the supplier and it was obviously 'user error'. Once shown the way we were delighted with the support.
Very easy to use, and being able to see the history, we now know where our cat's routes are and where it actually is located. Lightweight and compact, the battery doesn't last as long now it's two years old, but it's easy to recharge.
Accessories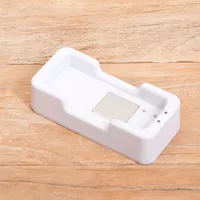 Charging base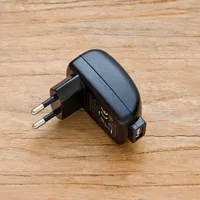 Power connector (C)